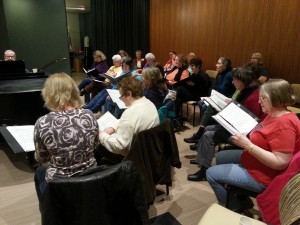 While we are not officially affiliated with Emerald Heights Retirement Community,  they have graciously allowed us use of their marvelous auditorium for our weekly rehearsals.  September through June (with holiday exceptions), rehearsals are held Mondays at 7:00pm sharp at:
Emerald Heights  
 10901  –  176th Circle NE Redmond, WA.
Singers gather earlier for socializing, committee meetings, or special practices.
We welcome new members throughout the season. To learn more about our group, programs, and schedules, interested singers are welcome and encouraged to visit and observe our rehearsals.
Directions to Emerald Heights:
Get onto I-405 and head toward SR-520 (which is between Bellevue and Kirkland).
Take Exit  #14 onto SR-520 eastbound toward Redmond.
Stay on SR-520 until the freeway ends and becomes Avondale Road NE.
Stay on Avondale Road until you come to NE 104th Street.
Turn left (uphill) onto NE 104th Street.
Take the third right onto 179th Ave. NE
 Continue on as 179th becomes 176th Ave. NE.
Turn left onto 176th Circle NE, at the Emerald Heights sign.
Note: Just after turning onto 176th Circle NE, stop at the entrance gate and tell them you're with the Lake Washington Singers.  They'll give you a pass card for your car, which you will later drop into a drop box as you drive out.  They can give you directions to the Game Room at the Corwin Center where we rehearse.