We are excited for our 2016 Fall Season, which is well under way!  Under the direction of our fearless leader, Kevin Gospel,  our group is continuing to grow, and, our music continues to be eclectic and interesting.
Lake Washington Singers is open to women, who love to sing, perform, and, have lots of fun.  We are a non-audition choir, for those with an ear for music, singing ability, and, a willingness to practice.  We rehearse Monday evenings, from 7-9pm, in Redmond, at Emerald Heights Retirement Community.  Come, check us out!  Our rehearsals are always open to new members.
We'd also love to see you at our Fall Season concert: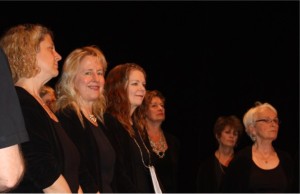 "Home For The Holidays" on Sunday, December 10th , 7:00pm  at  Northlake Universal Unitarian Church, 308 4th Ave S, Kirkland
Make sure to introduce yourself!
Our 2016 Spring Season, will be starting in early January, culminating with our dinner shows in May.
 Happy Singing!!